Prayers and Psalms of Thanksgiving
---
Both Scripture and Tradition provide us with many examples of giving thanks to God for His blessings. These Thanksgiving prayers, psalms, and hymns provide many ways to give thanks to the Lord for His goodness and mercy. These prayers are also perfect for use during the American and Canadian Thanksgiving holidays.
The General Thanksgiving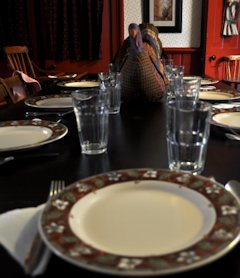 Almighty God, Father of all mercies, we your unworthy servants give you humble thanks for all your goodness and loving-kindness to us and to all whom you have made. We bless you for our creation, preservation, and all the blessings of this life; but above all for your immeasurable love in the redemption of the world by our Lord Jesus Christ; for the means of grace, and for the hope of glory. And, we pray, give us such an awareness of your mercies, that with truly thankful hearts we may show forth your praise, not only with our lips, but in our lives, by giving up ourselves to your service, and by walking before you in holiness and righteousness all our days; through Jesus Christ our Lord, to whom, with you and the Holy Spirit, be honor and glory throughout all ages.
Amen.
Book of Common Prayer/Book of Divine Worship
Psalm 100
Make a joyful noise to the Lord, all the earth.
Worship the Lord with gladness;
come into his presence with singing.
Know that the Lord is God.
It is he that made us, and we are his;
we are his people, and the sheep of his pasture.
Enter his gates with thanksgiving,
and his courts with praise.
Give thanks to him, bless his name.
For the Lord is good;
his steadfast love endures forever,
and his faithfulness to all generations.
New Revised Standard Version (NRSV)
Thanksgiving Day Collect
Almighty and gracious Father, we give you thanks for the fruits of the earth in their season and for the labors of those who harvest them. Make us, we pray, faithful stewards of your great bounty, for the provision of our necessities and the relief of all who are in need, to the glory of your Name; through Jesus Christ our Lord, who lives and reigns with you and the Holy Spirit, one God, now and for ever. Amen. Book of Common Prayer/Book of Divine Worship
Psalm 111
Praise the Lord!
I will give thanks to the Lord with my whole heart,
in the company of the upright, in the congregation.
Great are the works of the Lord,
studied by all who delight in them.
Full of honor and majesty is his work,
and his righteousness endures forever.
He has gained renown by his wonderful deeds;
the Lord is gracious and merciful.
He provides food for those who fear him;
he is ever mindful of his covenant.
He has shown his people the power of his works,
in giving them the heritage of the nations.
The works of his hands are faithful and just;
all his precepts are trustworthy.
They are established forever and ever,
to be performed with faithfulness and uprightness.
He sent redemption to his people;
he has commanded his covenant forever.
Holy and awesome is his name.
The fear of the Lord is the beginning of wisdom;
all those who practice it have a good understanding.
His praise endures forever.
New Revised Standard Version (NRSV)
A General Thanksgiving
Accept, O Lord, our thanks and praise for all that you have done for us. We thank you for the splendor of the whole creation, for the beauty of this world, for the wonder of life, and for the mystery of love.
We thank you for the blessing of family and friends, and for the loving care which surrounds us on every side.
We thank you for setting us at tasks which demand our best efforts, and for leading us to accomplishments which satisfy and delight us.
We thank you also for those disappointments and failures that lead us to acknowledge our dependence on you alone.
Above all, we thank you for your Son Jesus Christ; for the truth of his Word and the example of his life; for his steadfast obedience, by which he overcame temptation; for his dying, through which he overcame death; and for his rising to life again, in which we are raised to the life of your kingdom.
Grant us the gift of your Spirit, that we may know him and make him known; and through him, at all times and in all places, may give thanks to you in all things.
Amen.
Book of Common Prayer/Book of Divine Worship
O God, King of Saints
O God, the King of saints, we praise and glorify your holy name for all your servants who have finished their course in your faith and fear: for the blessed Virgin Mary; for the holy patriarchs, prophets, apostles, and martyrs; and for all your other righteous servants, known to us and unknown; and we pray that, encouraged by their examples, aided by their prayers, and strengthened by their fellowship, we also may be partakers of the inheritance of the saints in light; through the merits of your Son Jesus Christ our Lord.
Amen.
Book of Common Prayer/Book of Divine Worship
Thanksgiving Before Meals
Bless us O Lord, and these Thy gifts which we are about to receive from Thy bounty. Through Christ Our Lord.
Amen.
Thanksgiving After Meals
We give Thee thanks for all Thy benefits, O Almighty God, Who livest and reignest forever. And may the souls of the faithful departed, through the mercy of God, rest in peace.
Amen.
Another Thanksgiving Before Meals
Blessed are you, O Lord God, King of the Universe, for you give us food to sustain our lives and make our hearts glad; through Jesus Christ our Lord.
Thanksgiving for the Earth's Beauty
We give you thanks, most gracious God, for the beauty of earth and sky and sea; for the richness of mountains, plains, and rivers; for the songs of birds and the loveliness of flowers. We praise you for these good gifts, and pray that we may safeguard them for our posterity. Grant that we may continue to grow in our grateful enjoyment of your abundant creation, to the honor and glory of your Name, now and for ever.
Amen.
Book of Common Prayer/Book of Divine Worship
Thanksgiving for a Harvest
Most gracious God, by whose knowledge the depths are broken up and the clouds drop down the dew: We yield thee hearty thanks and praise for the return of seed time and harvest, for the increase of the ground and the gathering in of its fruits, and for all other blessings of thy merciful providence bestowed upon this nation and people. And, we beseech thee, give us a just sense of these great mercies, such as may appear in our lives by a humble, holy, and obedient walking before thee all our days; through Jesus Christ our Lord, to whom, with thee and the Holy Ghost be all glory and honor, world without end.
Amen.
Book of Common Prayer/Book of Divine Worship
Compiled by David Bennett
Updated 9-20-2018