About ChurchYear.Net
---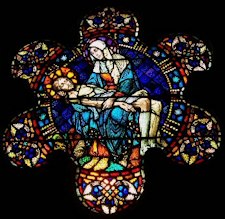 History
ChurchYear.Net was founded in 2004 by David and Jonathan Bennett, twin brothers fairly fresh out of graduate school with degrees in Theology. Realizing the importance of the Church calendar in personal devotion and public worship, they decided to start a website that contained accurate and faithful information about the liturgical year, one that balanced academic accuracy with an accessible style. This started as a section on Ancient-Future.Net and eventually became ChurchYear.Net.
Soon ChurchYear.Net expanded to include prayers, homilies, images, and other resources for parishes, schools, and personal devotion. Featured in a variety of diocesan newsletters, church bulletins, homilies, and media outlets (including the BBC, New York Times, and Huffington Post), ChurchYear.Net is the site for accurate information about major Christian holidays and seasons.
Why the Church Year?
In the course of a year, the Church celebrates the unfolding of the mystery of Christ, beginning with Advent, whih anticipates His first and second comings, and reaching a high point at Easter, the feast of feasts, which celebrated His resurrection. Through the Church Year, which includes the seasonal, daily, and yearly cycles of Christian time, we commemorate and participate in events in the lives of Jesus and His followers, through sanctified time. Thus, we experience in symbol what Jesus and His followers did in reality. We do this through daily prayer (The Liturgy of the Hours), worship, the Eucharist, the sacraments, art, colors, canticles, psalms, antiphons, symbols, and other means.
The Church Year, including all liturgical celebrations and times of prayer, is one of the most meaningful dimensions of the Catholic faith. Many Christians of all traditions feel drawn to this system of holy time and prefer to orient their lives around the Christian calendar instead of the secular calendar. Postmodern men and women feel especially drawn to many elements of Sanctified Time: mystery, connection to the past, and a multitude of religious symbols and experiential elements. Thus the Church Year is a postmodern Catholic evangelization tool and a means of spiritual growth for all who use it.
We now have All About... pages for every season of the Church Year, and have many All About... pages for various feasts, fasts, and holy days of the Church Year. Each All About... page has a history, general facts, scriptural references, traditions, symbols, links, worship resources, sermons, an FAQ, and more material related to the particular season or holy day. We also have a helpful Church Year and Liturgy Dictionary, to define certain unfamiliar terms and practices. We are expanding our resources to include general prayers, language resources, and other tools peripherally related to celebrating the Church Year, but still important to its celebration.
Enjoy!
The Contributors