Pentecost Prayers
---
What is Pentecost?
Pentecost, also called Whitsunday, celebrates the founding of the Church of Christ, when the Holy Spirit came upon the Apostles, as recorded in the Acts of the Apostles (Acts 2). Pentecost is celebrated fifty days after Easter Sunday. These Pentecost Prayers relate to the themes of the Church and the Holy Spirit.
More Info: Catholic Pentecost
Anglican-Use Pentecost Collect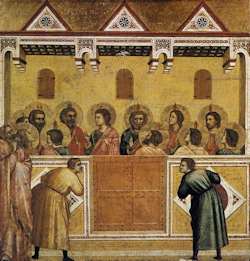 Almighty God, who on this day didst open the way of eternal life to every race and nation by the promised gift of thy Holy Spirit: Shed abroad this gift throughout the world by the preaching of the Gospel, that it may reach to the ends of the earth; through Jesus Christ our Lord, who liveth and reigneth with thee, in the unity of the Holy Spirit, one God, for ever and ever.
Amen.
Book of Divine Worship (and the Book of Common Prayer)
Alternate Anglican-Use Pentecost Collect
O God, who on this day didst teach the hearts of thy faithful people by sending to them the light of thy Holy Spirit: Grant us by the same Spirit to have a right judgment in all things, and evermore to rejoice in his holy comfort; through the merits of Christ Jesus our Savior, who liveth and reigneth with thee, in the unity of the same Spirit, one God, world without end.
Amen.
Book of Divine Worship (and the Book of Common Prayer)
Catholic Pentecost Opening Prayer
Let us pray [that the Holy Spirit may bring peace and unity to all mankind]
Almighty and ever-living God, you fulfilled the Easter promise by sending us your Holy Spirit. May that Spirit unite the races and nations on earth to proclaim your glory. Grant this through our Lord Jesus Christ, your Son who lives and reigns with you and the Holy Spirit, one God, for ever and ever.
Amen.
New Saint Joseph Sunday Missal
Alternate Catholic Pentecost Opening Prayer
Let us pray [that the flame of the Spirit will descend upon us]
Father in heaven, fifty days have celebrated the fullness of the mystery of your revealed love. See your people gathered in prayer, open to receive the Spirit's flame. May it come to rest in our hearts and disperse the divisions of word and tongue. With one voice and one song may we praise your name in joy and thanksgiving. Grant this through Christ our Lord.
Amen.
New Saint Joseph Sunday Missal
A Prayer to the Holy Spirit
O God the Holy Ghost Who art light unto thine elect Evermore enlighten us. Thou who art fire of love Evermore enkindle us. Thou who art Lord and Giver of Life, Evermore live in us. Thou who bestowest sevenfold grace, Evermore replenish us. As the wind is thy symbol, So forward our goings. As the dove, so launch us heavenwards. As water, so purify our spirits. As a cloud, so abate our temptations. As dew, so revive our languor. As fire, so purge our dross.
Christina Rossetti (AD 1830-1894)
An Act of Consecration to the Holy Spirit
On my knees before the great multitude of heavenly witnesses, I offer myself, soul and body to You, Eternal Spirit of God. I adore the brightness of Your purity, the unerring keenness of Your justice, and the might of Your love. You are the Strength and Light of my soul. In You I live and move and am. I desire never to grieve You by unfaithfulness to grace and I pray with all my heart to be kept from the smallest sin against You. Mercifully guard my every thought and grant that I may always watch for Your light, and listen to Your voice and follow Your gracious inspirations. I cling to You and give myself to You and ask You by Your compassion to watch over me in my weakness. Holding the pierced Feet of Jesus and looking at His Five Wounds and trusting in His Precious Blood and adoring His opened Side and stricken Heart I implore You, Adorable Spirit, Helper of my infirmity, so to keep me in Your grace that I may never sin against You. Give me grace O Holy Spirit, Spirit of the Father and the Son to say to You always and everywhere "Speak Lord for Your servant heareth."
Amen.
Prayer for the Seven Gifts of the Holy Spirit
Christ Jesus, before ascending into heaven, You promised to send the Holy Spirit to Your apostles and disciples. Grant that the same Spirit may perfect in our lives the work of Your grace and love.
Grant us the Spirit of Fear Of The Lord that we may be filled with a loving reverence toward You.
The Spirit of Piety that we may find peace and fulfillment in the service of God while serving others;
The Spirit of Fortitude that we may bear our cross with You and, with courage, overcome the obstacles that interfere with our salvation;
The Spirit of Knowledge that we may know You and know ourselves and grow in holiness;
The Spirit of Understanding to enlighten our minds with the light of Your truth;
The Spirit of Counsel that we may choose the surest way of doing Your will, seeking first the Kingdom;
Grant us the Spirit of Wisdom that we may aspire to the things that last forever;
Teach us to be Your faithful disciples and animate us in every way with Your Spirit.
Amen.
An Orthodox Prayer to the Holy Spirit
Glory to thee, O Lord, glory to thee! Heavenly King, Comforter, Spirit of Truth, Who art everywhere present and filleth all things, Treasury of all good and giver of life, Come and dwell within us; Cleanse us from all unrighteousness, And of thy goodness, save our souls.
Prayer of Saint Bonaventure to the Holy Spirit
Lord Jesus, as God's Spirit came down and rested upon you, May the same Spirit rest on us, Bestowing his sevenfold gifts. First, grant us the gift of understanding, By which your precepts may enlighten our minds. Second, grant us counsel, by which we may follow in your footsteps on the path of righteousness. Third, grant us courage, by which we may ward off the enemy's attacks. Fourth, grant us knowledge, by which we can distinguish good from evil. Fifth, grant us piety, by which we may acquire compassionate hearts. Sixth, grant us fear, by which we may draw back from evil and submit to what is good. Seventh, grant us wisdom, that we may taste fully the life-giving sweetness of your love.
A Manual of Anglo-Catholic Devotion
Prayer Appropriate for Pentecost
Good Jesu, fountain of love: Fill me with thy love, Absorb me into thy love, Compass me with they love, That I may see all things in the light of thy love, Receive all things as tokens of thy love, Speak of all things in words breathing of thy love, Win through thy love others to thy love, Be kindled day by day with a new glow of thy love, Until I be fitted to enter into thine everlasting love, To adore thy love and love to adore thee, My God and my all. Even so, come Lord Jesu!
Edward Bouverie Pusey (AD 1800-1882)
Come, Creator Spirit
Come, O Creator Spirit blest! And in our souls take up Thy rest; Come with Thy grace and heavenly aid, to fill the hearts which Thou hast made. Great Paraclete! To Thee we cry, O highest gift of God most high! O font of life! O fire of love! And sweet anointing from above. Thou in Thy sevenfold gifts art known, The finger of God's hand we own; The promise of the Father, Thou! Who dost the tongue with power endow. Kindle our senses from above, And make our hearts overflow with love; With patience firm and virtue high The weakness of our flesh supply. Far from us drive the foe we dread, And grant us Thy true peace instead; So shall we not, with Thee for guide, Turn from the path of life aside. Oh, may Thy grace on us bestow The Father and the Son to know, And Thee, through endless times confessed, Of both, the eternal Spirit blest. All glory while the ages run Be to the Father and the Son Who rose from death; the same to Thee, O Holy Ghost, eternally.
Amen.
Latin Hymn (ninth century)
Prayer of Saint Alphonsus Liguori to the Holy Spirit
Most Holy Spirit, the Paraclete, Father of the poor, Comforter of the afflicted, Light of hearts, Sanctifier of souls; behold me prostrate in Thy presence.
I adore Thee with profoundest homage: I bless Thee a thousand times and with the Seraphim who stand before Thy throne, I also say: "Holy, holy, holy."
I firmly believe that Thou art eternal, consubstantial with the Father and the Divine Son.
I hope in Thy goodness that Thou wilt deign to save and sanctify my soul.
I love Thee, O Divine Love, with all my affections above all the things of this world, because Thou art Infinite Goodness, alone worthy of all love.
And since in my ingratitude and blindness to Thy holy inspirations, I have so often offended Thee by my sins, with tears in my eyes I beg Thy pardon a thousand times, and am more sorry for having offended Thee, the Sovereign Good, than for any other evil.
I offer Thee this most cold heart of mine, and I pray Thee to pierce it with a ray of Thy light, and with a spark of Thy fire, which shall melt the hard ice of my iniquities.
Thou who didst fill the soul of the most holy Mary with immense graces, and didst inflame the hearts of the Apostles with holy zeal, inflame, I beseech Thee, my heart also with Thy love.
Thou art the Divine Spirit: give me courage against all evil spirits.
Thou art Fire: enkindle in me Thy love. Thou art Light: enlighten my mind with the knowledge of eternal things. Thou art the Dove: give me innocence of life. Thou art the gentle Breeze: disperse the storms of my passions. Thou art the Tongue: teach me how to bless Thee always. Thou art the Cloud: shelter me under the shadow of Thy protection. And lastly, Thou art the Giver of all heavenly gifts: animate me, I beseech Thee, with Thy grace; sanctify me with Thy charity; enlighten me with Thy wisdom; adopt me by Thy goodness as Thy son, and save me in Thy infinite mercy; so that I may ever bless Thee, praise Thee, and love Thee; first during this life on earth, and then in heaven for all eternity.
Amen.
Alphonsus Liguori (1696-1787)
A Prayer to the Holy Spirit
Breathe in me O Holy Spirit that my thoughts may all be holy; Act in me O Holy Spirit that my works, too, may be holy; Draw my heart O Holy Spirit that I love but what is holy; Strengthen me O Holy Spirit to defend that is holy; Guard me then O Holy Spirit that I always may be holy.
Saint Augustine of Hippo (AD 354-430)
A Prayer to the Holy Spirit
Come, O Spirit of God And make within us your dwelling place and home. May our darkness be dispelled by your light, And our troubles calmed by your peace; May all evils be redeemed by your love, All pain transformed through the suffering of Christ, And all dying glorified by his risen life.
Amen.
A Prayer Book for Australia
A Prayer to the Holy Spirit
Come, O Spirit of God Holy Spirit, I offer myself to your work of healing, peace and reconciliation. In my busy world, bless my silent moments. In the stillness of my heart, may I find peace within myself, peace with others, and peace with you.
Amen.
Michael Buckley
Compiled by David Bennett.
Updated 05-25-2017