Prayers for Strength
---
The world is a challenging and stressful place: wars, illness, stress, poverty, and other struggles. Christian Scripture and Tradition are filled with prayers for strength and courage. God provides us many positive tools to deal with this world, granting us peace and patience amidst the turbulence that we encounter. These prayers reflect the Catholic and general Christian experience of asking for God's strength in the midst of difficulty and adversity.
Prayer for Strength From Isaiah
O Lord, You are the everlasting God, the Creator of the ends of the earth.
You do not grow faint or weary; your understanding is unsearchable.
You give power to the weak, and strengthen the powerless.
Even the young will grow weary, and will fall exhausted;
But those who wait for you shall renew their strength, and shall mount up with wings like eagles;
They shall run and not be weary;
They shall walk and not faint.
Amen.
Adapted from Isaiah 40:28-31
Daily Prayer for Strength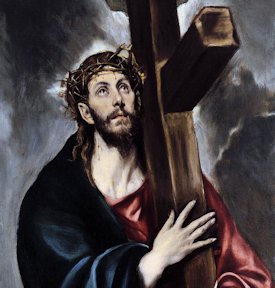 Father,
Protect and guide me during the course of this day.
As adversities and pain come my way, give me the strength and courage to endure every struggle.
May your gift of faith allow me to always trust in you;
May your gift of hope give me the right perspective;
May your gift of love remind me put you above everything, and to love others as you love me.
Amen.
David Bennett
Prayer to Jesus for Strength
Lord Jesus,
You suffered and died upon the cross for the love of humanity.
You provided us with a perfect example of love and strength.
Fill me with your grace this day, so that I may face every pain, struggle, and stress with the same courage and conviction that you had in the midst of your suffering.
Fill me with your powerful strength, Lord Jesus.
Amen.
David Bennett
Another Strength Prayer
You Lord, are my light and my salvation; whom shall I fear?
You are the stronghold of my life; whom shall I fear?
When adversities come to me, they shall fail to harm me.
Though an army encamp against me, my heart shall not fear;
Hear, O Lord, when I cry aloud, be gracious to me and answer me!
I will see the goodness of the Lord in the land of the living.
I will wait for the Lord;
My heart takes courage;
I will wait for the Lord!
Psalm 27, adapted
Prayer for Protection at Night
O God, the life of all who live, the light of the faithful, the strength of those who labor, and the repose of the dead:
We thank you for the blessings of the day that is past, and humbly ask for your protection through the coming night.
Bring us in safety to the morning hours; through him who died and rose again for us, your Son our Savior Jesus Christ.
Amen.
Book of Common Prayer
Prayer for Strength in Sickness
Heavenly Father, giver of life and health:
Comfort and relieve your sick servant (name), and give your power of healing to those who minister to his needs, that he may be strengthened in his weakness and have confidence in your loving care; through Jesus Christ our Lord.
Amen.
Book of Common Prayer, 1979
Prayer for Strength During Pain
Lord Jesus Christ, by your patience in suffering you made holy earthly pain and gave us the example of obedience to your Father's will:
Be near me in my time of weakness and pain; sustain me by your grace, that my strength and courage may not fail; heal me according to your will; and help me always to believe that what happens to me here is of little account if you hold me in eternal life, my Lord and my God.
Amen.
Book of Common Prayer, 1979, adapted
Prayer for Quiet Confidence
O God of peace, who taught us that in returning and rest we shall be saved, and in quietness and confidence shall be our strength:
By the might of your Spirit lift us, we pray, to your presence, where we may be still and know that you are God; through Jesus Christ our Lord.
Amen.
Book of Common Prayer, 1979, adapted
Psalm 31, Adapted
In you, O Lord, I seek refuge; in your righteousness deliver me.
Incline your ear to me; rescue me quickly.
Be a rock of refuge for me, a strong fortress to save me.
For your name's sake lead me and guide me, take me out of the net that is hidden for me, for you are my refuge.
Into your hand I commend my spirit; you have redeemed me, O Lord, faithful God.
Blessed be you, O Lord, for you have shown your steadfast love to me.
You preserve the faithful;
You make us strong, so that our hearts may take courage.
Amen.
Adapted
Updated 06-12-2018