Symbolum Apostolorum
---
The Apostles' Creed in Latin
The Apostles' Creed is a creed, or statement of belief, used in the Church. According to legend, each of the twelve apostles of Jesus contributed a line. However, most likely the Apostles' Creed is a later creation that reflects the teaching of the apostles. The Apostles' Creed is used in the Church's baptismal services, the Liturgy of the Hours, and the rosary.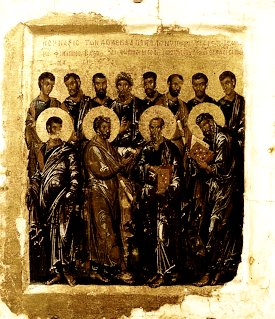 In Latin, the Apostles' Creed is as follows:
Symbolum Apostolorum
Credo in Deum Patrem omnipotentem;
Creatorem caeli et terrae.
Et in Jesum Christum, Filium eius unicum, Dominum nostrum;
Qui conceptus est de Spiritu Sancto, natus ex Maria virgine;
Passus sub Pontio Pilato,
Crucifixus, mortuus, et sepultus;
Descendit ad inferos;
Tertia die resurrexit a mortuis;
Ascendit ad caelos;
Sedet ad dexteram Dei Patris omnipotentis;
Inde venturus est iudicare vivos et mortuos.
Credo in Spiritum Sanctum;
Sanctam ecclesiam catholicam;
Sanctorum communionem;
Remissionem peccatorum;
Carnis resurrectionem;
Vitam aeternam.
Amen.