The Suscipe Of St. Ignatius of Loyola
---
For July 31 or Any Occasion
Saint Ignatius of Loyola (born around AD 1491) founded the Society of Jesus (commonly called Jesuits). After being wounded in a battle, Ignatius had a profound religious conversion, and dedicated himself to following Christ. His Spiritual Exercises consist of meditations, prayers, and mental exercises designed to help Christians discern Jesus in their lives and, over the course of about a month, lead to a commitment to follow Him. The Suscipe prayer was included as "additional material" to help a Christian attain love following the completion of the Exercises. His memorial falls on July 31.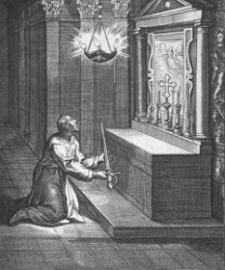 Suscipe of St. Ignatius of Loyola
Take, Lord, and receive all my liberty, my memory, my understanding and my entire will, all I have and call my own.
You have given all to me. To you, Lord, I return it.
Everything is yours; do with it what you will. Give me only your love and your grace. That is enough for me.
Ignatius of Loyola
Compiled by David Bennett
Updated 07-30-2018