Prayer for the Feast of the Holy Innocents
---
For Use on December 28 or Other Occasions
The Feast of the Holy Innocents is celebrated on December 28. It commemorates the event from the Christmas story when King Herod ordered the massacre of all male children under the age of two, in and around the town of Bethlehem.
The intent of this order was to kill the child Jesus who, as the predicted Messiah, was a threat to the rule of Herod. As recounted in the Gospel of Matthew, Joseph and Mary fled to Egypt, avoiding the massacre and saving Jesus. This is a similar theme to the story of Moses, where he was miraculously saved from death as a baby as well.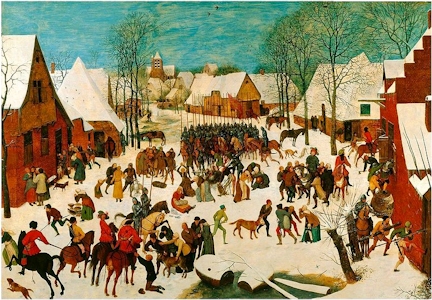 Prayer for the Feast of the Holy Innocents
O God,
We remember today, the slaughter of the holy innocents of Bethlehem by King Herod.
Receive, we pray, into the arms of your mercy all innocent victims;
And by your great might frustrate the designs of evil tyrants and establish your rule of justice, love, and peace;
Through Jesus Christ our Lord, who lives and reigns with you, in the unity of the Holy Spirit, one God, for ever and ever.
Amen.
Book of Common Prayer, 1979, modified
Compiled by David Bennett
Updated 12-26-2018