A Lent Reading List
---
Spiritual Reading Ideas for Lent and Other Times
Lent is a time of prayer, fasting, giving to others, and reading classic books related to Christian spirituality is a great Lenten discipline. This list is meant to help you make your Lent more holy. We also have a main reading list, with suggestions in different categories: Spirituality and Theology Reading List.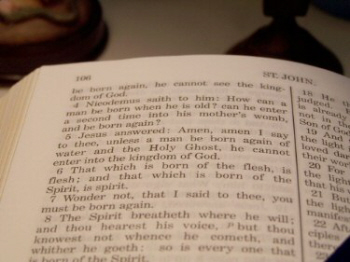 The Holy Bible: Revised Standard Version, Catholic Edition Lent is a perfect time to start or restart a discipline of scripture reading. We have linked to the RSV-CE, a favorite Catholic Bible. There are also good New American Bibles.
The Imitation of Christ - Thomas a Kempis Thomas a Kempis has written this classic on Christian spiritual discipline. Reading through the entire book during Lent (and attempting to follow Thomas' suggestions) will help one become more like Christ, and less like the world.
The Spiritual Exercises - Ignatius of Loyola This classic book is like taking part a retreat led by a spiritual master. Many Catholics and other Christians have used this classic work of prayer and meditation to enhance their Lent.
An Introduction To the Devout Life - Francis De Sales This is a classic masterpiece of devotional and mystical literature. This book will help guide you to follow God more devoutly and live your life in a way that focuses on God first and foremost.
Stations of the Cross: The Thoughts of Jesus and Mary - Fr. Joshua Wagner This is an excellent stations devotion, recited from the perspective of Jesus (and then Mary). The readings capture well what both Jesus and Mary must've gone through as he completed his journey to the cross. It is dignified, meaningful, and accessible to people of all ages.
The Early Church Fathers, 38 Volumes - Donaldson, et. al. Lent is a good time to start reading the ancient Fathers of the Church. While Bible reading should come first, learning how past Christians interpreted Christ and the Bible is a perfect endeavor for Lent. This set is fairly expensive, but at this link, the whole 38 volume set is extremely reasonable. The only drawback is that the set was translated by Protestants before Vatican II, so the authors often are strongly anti-Catholic in rhetoric, and as such, this blinds them to some of the Fathers' insights.
Contemplative Prayer by Thomas Merton Merton, a Trappist monk, provides a guide for contemplative prayer, using the ancient mystics and fathers as his inspiration. While the book is written for monks, it is a good book for everyone seeking to deepen his or her spirituality, which is especially helpful to deepen one's Lenten discipline.
A Day in Your Presence: A 40-Day Journey in the Company of St. Francis This is a 40 day devotional series based on the life and writings of St. Francis of Assisi, tied to the Bible. Reading one chapter for every day for Lent will bring one closer to Christ through learning about (and imitating) the simplicity of St. Francis.
See: A Comprehensive Guide to Lent: History, Resources, Links, and FAQ
Ancient and Future Catholics