Divine Mercy Sunday
---
Divine Mercy Sunday takes place on the Sunday after Easter Sunday (the second Sunday of the season of Easter). It is based on the devotion to the Divine Mercy as revealed by Jesus to Saint Faustina Kowalska, a Polish nun who lived from 1905 to 1938.
In her diary, Divine Mercy in My Soul, Saint Faustina recorded her experiences and conversations with Jesus, who appeared to her in many visions and revealed to her His desire for the establishment of a feast to honor his Divine Mercy.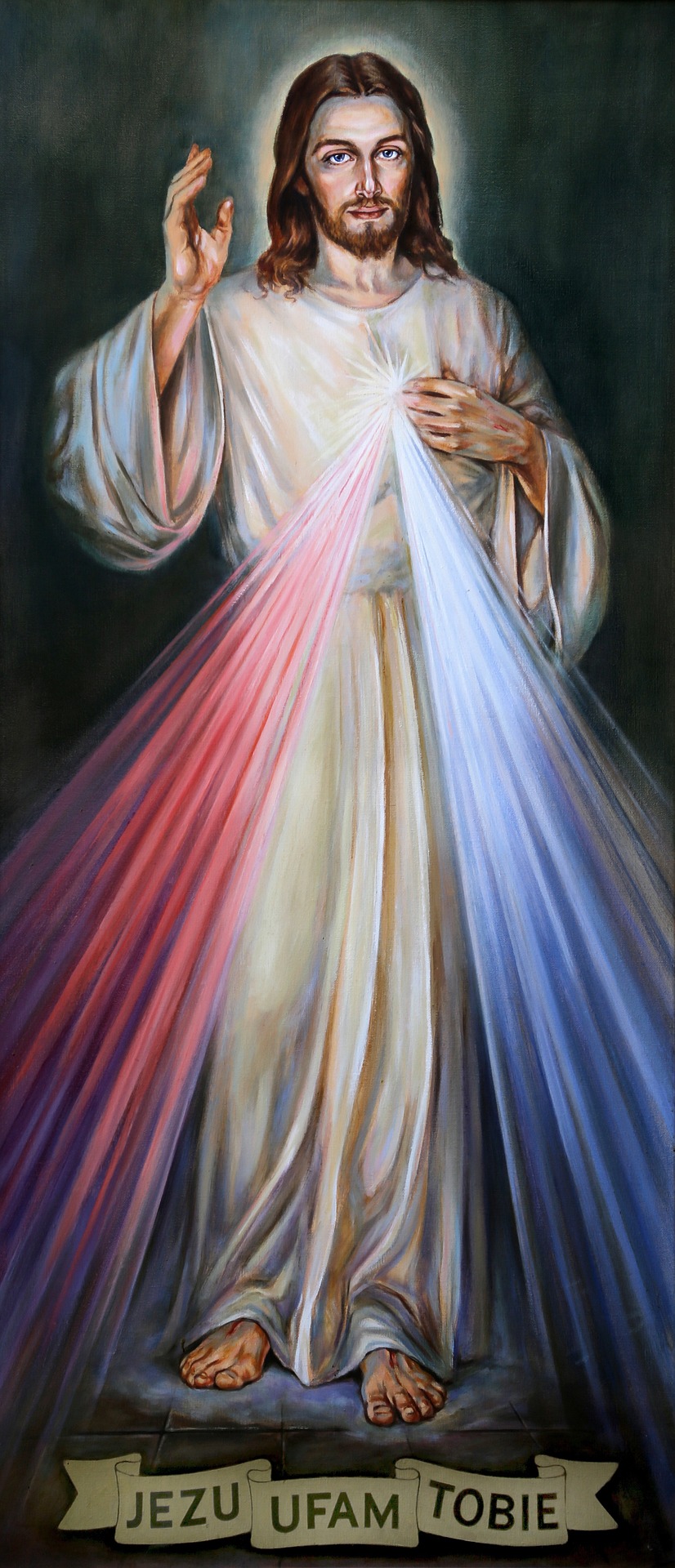 In one of the visions, which took place on February 22, 1931, Jesus appeared to Saint Faustina as the "King of Divine Mercy" and requested that a painting be created according to the vision. The image depicted Jesus with rays of red and blue shining from His heart. These rays symbolize blood and water, expressing how Jesus' mercy is particularly conveyed to us through the sacraments of the Eucharist (blood) and baptism (water).
Jesus also expressed His desire for a special feast to be celebrated on the Sunday after Easter, which would be known as Divine Mercy Sunday. He said, "I desire that the Feast of Mercy be a refuge and shelter for all souls, and especially for poor sinners. On that day, the very depths of My tender mercy are open. I pour out a whole ocean of graces upon those souls who approach the fount of My mercy" (Diary, 699).
Despite encountering skepticism and opposition, Saint Faustina conveyed Jesus' message of mercy and sought the establishment of the feast. However, it was not until many years after her death that her writings gained wider recognition and the devotion to Divine Mercy spread.
In 1959, the Archbishop of Krakow, Poland, initiated an official inquiry into the life and writings of Saint Faustina. The examination of her writings led to her beatification in 1993 and her canonization as a saint by Pope John Paul II on April 30, 2000.
Shortly after her canonization, Pope John Paul II, who had a deep devotion to Divine Mercy, established the Sunday after Easter Sunday as Divine Mercy Sunday. On April 30, 2000, during the canonization Mass for Saint Faustina, he declared, "It is important then that we accept the whole message that comes to us from the word of God on this Second Sunday of Easter, which from now on throughout the Church will be called 'Divine Mercy Sunday.'"
Since then, Divine Mercy Sunday has been celebrated annually in the Catholic Church, with special prayers, devotions, and Masses dedicated to the Divine Mercy. The celebration of Divine Mercy Sunday includes various practices, such as attending Mass, participating in the Divine Mercy Chaplet prayer, and receiving the Sacrament of Reconciliation (Confession). The image of the Divine Mercy, which depicts Jesus with rays of red and blue emanating from His heart, is often venerated during this day.
Updated 07-02-2023